Veneers Offer A Conservative Solution
Many patients choose porcelain veneers to cover misshapen, misaligned, discolored, chipped, crowded or gapped teeth that otherwise are relatively intact. Through a minimally invasive procedure, veneers can completely transform a smile.
Thin shells of metal-free, high-strength ceramic porcelain are digitally fabricated, then etched on the inside and bonded to tooth enamel.
Veneers are permanent; for their application, a small amount of tooth structure must be removed to make room for the porcelain veneer and to avoid "Chiclet" teeth (teeth that resemble Chiclets chewing gum – big, bulky, and too white). Tooth preparation is limited to the enamel and usually involves only a few surfaces, unlike a crown or cap.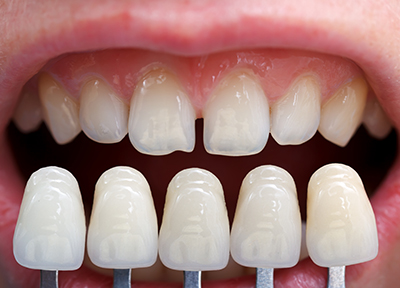 Porcelain veneers are a conservative way to correct significant aesthetic problems – with beautiful, natural-looking results.
If you think porcelain veneers might be what you need to improve your smile, explore veneers and other possible options
with Dr. Zamikhovsky. Just call Somerset Prosthodontic Dental at 908-754-6444 to schedule an appointment.