Denture Fabrication: A Prosthodontics Specialty
Missing teeth can cause a host of problems ranging from social withdrawal to poor nutrition. As replacements for missing teeth, dentures can improve chewing, speech problems, facial appearance, and self-confidence. Prosthodontists are experts in denture fabrication, and at Somerset Prosthodontic Dental we restore your smile and function with conventional and CAD/CAM dentures. Patients who have worn complete dentures in the past say they like the speed of the computer-aided design and manufacturing process and the improved the fit of their dentures.
For patients missing all of their teeth, we might recommend complete dentures; for those missing several – but not all – of their teeth, a removable partial denture might be the best solution. In some cases, we might recommend implant-supported removable or fixed dentures that are anchored in place with dental implants. Implants reduce movement and make your dentures much more user-friendly. While full upper dentures are usually stable when in place, lower dentures can be problematic because there is no natural suction to hold them. Consequently, we typically recommend using two to four implants to anchor a full lower denture, whether fixed or removable. Removable partial dentures use remaining natural teeth to hold or anchor the removable bridge in place. There are many different types and designs for removable partial dentures. Or, we might recommend dental implants as the best solution to restore the missing teeth.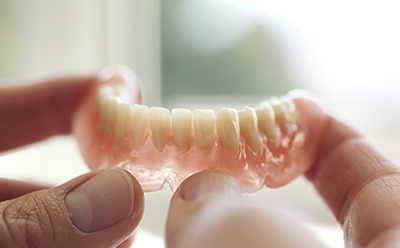 Somerset Prosthodontic Dental will help you determine whether a removable partial denture is right for your needs. We can offer you a variety of designs for your removable partial denture or provide other alternatives to consider, including dental implant-supported crowns and bridges. All of our dentures are made in our labs in Manville, N.J., and Trenton, N.J. Integral to our denture services, we also repair, rebase, reline and provide soft liners for dentures.
If your denture is damaged, we will send it to our lab for expert repair. When denture teeth are still good but the base material is worn, we do what essentially is a retrofit – we retain the teeth but replace the entire base with new acrylic in a process called rebasing.
We will reline a denture with a new layer of acrylic on the tissue side to improve fit, which can become necessary when tissue changes have occurred, usually as a result of aging, illness, weight loss or loss of bone.
We offer soft liners to provide pain relief for patients whose gums are chronically sore or, because of structural issues, have difficulty adapting to dentures.
For expert help with denture issues, call Somerset Prosthodontic Dental, 908-754-6444,
to schedule an appointment with Dr. Zamikhovsky.